SQL Spreads Benefits
Manage and update centralized data through Excel
For organizations using Microsoft SQL Server, who need to create solutions where end users can manage and update their SQL Server data through Excel, SQL Spreads is an Excel Add-In that lets you:
easily create solutions to manage and update data in SQL Server through Excel,
improve data quality by utilizing automatic validation and integrity checks, and
enable data owners to reach their centralized data through Excel.
Well-known Excel interface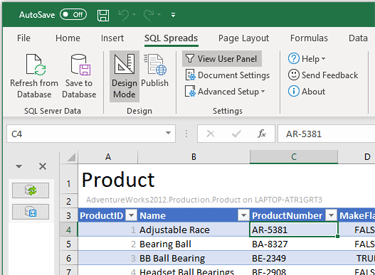 Business users who are used to working in Excel will be up and running with a SQL Spreads solution in minutes.
No problems with wrong data types
When importing user data to SQL Server, wrong data types may cause problems. SQL Spreads has a built-in data check that validates the data at the same time it is entered by the user.
Simple data integrity checks
Drop-down lists make it easy for users to update data columns with foreign key relation – the user selects a text item in the drop-down list in Excel, and SQL Spreads will insert the corresponding key into the database table.
No coding required
SQL Spreads does not require any coding to create data management solutions. Use existing knowledge in Excel and SQL Server to build and update your Excel-to-SQL Server solution.
Easy to maintain and update
A data management solution in SQL Spreads is built using basic Excel and SQL knowledge. Solutions can be maintained in-house without the need to rely on external consultants for updates and changes.
No more troublesome SSIS-imports of Excel files
Importing Excel data into SQL Server using SSIS can be hard. Invalid data types and unclosed files are a few issues that may cause the Excel-to-SQL Server import to fail.
When using SQL Spreads, data is instantly updated in the SQL Server database.
No more complex VBA scripts to import Excel files to SQL Server
VBA project can be tough to maintain over time. SQL Spreads use VBA-free Excel documents together with standard database technologies to move data from Excel to SQL Server.